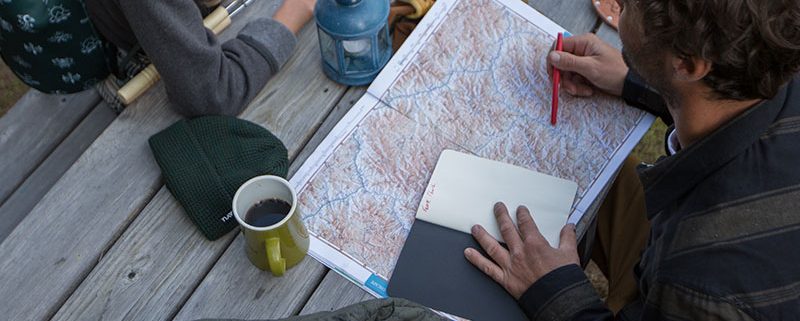 If you're an avid hiker or car camper, but crave an immersive experience with mother nature, backpacking may be your perfect solution. Not sure where to start? In this series, we'll explore everything you need for a successful backpacking experience.
Grab a Buddy
It's always safest to hit the backcountry with a partner. If you have friends who are experienced backpackers, ask them to join you on a short trip – most backpackers are eager to share their experience with newbies.
If you can't find someone with backpacking experience, grab an adventurous friend who's willing to give it a try and head down to Frugal Backpacker. Our experienced staff members are always happy to share their expert advice, we also regularly host free outdoor skills clinics.
Pick a Route
Main factors to consider are length of trip, distance/difficulty, and time of year/weather. For first timers, it's a good idea to dip your toe in with a 1-2 night trip. When planning your daily distance, keep it comfortable. 3-5 miles is a good distance if you plan to hike half the day, plan on 5-8 miles if you'd like to hike all day. Plan on less distance if your route involves a large elevation gain, you or your companion are not used to hiking long distances, or if it's winter (setting up camp in the dark is no fun).
Once you know what kind of route your looking for, get to work! Asheville Trails, RootsRated, Backpacker.com, and All Trails are great web resources. Frugal Backpacker also sells several local guides with detailed information on awesome routes.
To get you started, here are a couple of our favorite beginner routes:
Max Patch Loop via Appalachian Trail EASY 2.8 mile loop
Loop over and around Max Patch, a high-elevation bald that provides a grassy perch for observing the Black Mountain Range's 6,000-foot behemoths (extend the trip to Roaring Fork for a 7.6-mile day).
Carver's Gap Trail MODERATE 13.6 mile point to point
Also Along the AT, hike from shelter to shelter or camp in designated areas, beautiful balds and views. Carver's Gap is also a great winter hike. More advanced terrain than Max Patch.
Be Prepared
It may not be the most fun part of trip planning, but preparation is important and lifesaving. Follow these four steps to make sure your trip is memorable for the right reasons.
Regardless of the resources you use to select your route, purchase a paper map and carry it with you. Technology does fail; map and compass skills are essential to backcountry safety.
Although natural disasters are rare in WNC, as last year's wildfires demonstrate, they do happen. Take the time to study your map ahead of time and plan out alternate "escape routes" for worst case scenarios.
Don't forget to research restrictions and permit requirements before hitting the trail. The National Parks Service or North Carolina Forest Service should be able to provide you with the info you need.
Familiarize yourself with our Outdoor Safety Basics.
https://frugalbackpacker.com/wp-content/uploads/2018/01/F_17_SANDPOINT_WW_449A4446.jpg
1200
800
Frugal Backpacker
/wp-content/uploads/2016/04/frugal-backpacker-logo.png
Frugal Backpacker
2018-01-22 12:58:32
2018-07-25 23:43:03
Intro to Backpacking Part One: Trip Planning Basics