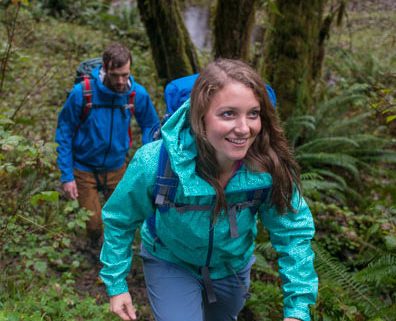 We truly live in an outdoor paradise. WNC offers hundreds of beautiful hiking trails and breathtaking overlooks. But to make the most out of your adventure, it's vital to be well prepared and think about a few essentials for a rewarding (and safe) experience.
Water:
Always bring along enough water for your hike. An average adult will likely drink a minimum of 2-3 liters of water on a full day of hiking, but will likely need more, especially in warm weather or on particularly strenuous hikes. Good news! Water is plentiful in WNC and delicious! Just bring along a filter, pump, or treatment solution and you will have all the clean water you need.
Rain Gear: 
Rain gear is critical in WNC, one of the rainiest parts of the country! During popular spring, summer, and fall months rain and thunderstorms are a common occurrence. Stay dry, stay warm, stay safe, and play more! 
Maps: 
If you're doing the Art Loeb, venturing into a wilderness area, or just hiking off the Blue Ridge Parkway to explore a new trail, make sure you know where you're headed and can find your way back! National Geographic and Pisgah Map Company maps are affordable and readily available.
First Aid: 
Whether taking the family to a swimming hole or going on an overnight camping trip, First Aid is important. Scrapes, cuts, bee stings, sunburn and other more serious injuries can and do occur. Be prepared.
Camping: 
Whether hammocking or curling up in a tent, camping is an awesome way to experience the WNC wilderness! Pisgah National Forest has designated campgrounds for easy car access and also allows dispersed camping anywhere in its boundaries. Certain portions of Pisgah require the use of hard-sided bear canisters. Please check their website for up-to-date information or stop by Frugal Backpacker for advice!
The nearby Great Smoky Mountains National Park requires a permit and advance reservations for all backcountry camping in the park. In the busy season these spots go fast, so plan ahead!
Bear-Bagging is a useful skill when camping anywhere in bear country. WNC is home to a large black bear population and even when camping in areas that do not expressly require bear canisters, we suggest bear-bagging your food and other scented products (deodorant, soap, toothpaste, etc). The PCT method of bear-bagging is our preferred system at Frugal Backpacker. If you are unfamiliar with it, drop into the shop and ask one of our experts to demonstrate. All it takes is a bag, some paracord, a carabiner, and a stick!
Leave No Trace and Wilderness Awareness: 
The mountains and forests of WNC are a wonderful resource and welcoming opportunity to learn and explore! Please be respectful of the land and help preserve it for future generations and fellow enthusiasts alike! Bag your trash and carry it out with you. Dispose of human waste responsibly and away from water sources and trails. Thoroughly extinguish any fires and obey fire ban ordinances when and where applicable. Do not disturb wildlife and be mindful of slippery surfaces near the many creeks, rivers, and waterfalls that dot our mountains. More people die from slipping and falling each year than every other cause put together!
If you don't know, ask! 
Getting into a new activity or learning a new area takes time, but expert guidance can make a huge difference. Stop by Frugal Backpacker or our sister store, Diamond Brand Outdoors and ask our friendly expert staff for info on the local area or gear suggestions. We're always happy to help!
https://frugalbackpacker.com/wp-content/uploads/2016/08/IC_102815_MtnHardwear_2193.jpg
396
396
Frugal Backpacker
/wp-content/uploads/2016/04/frugal-backpacker-logo.png
Frugal Backpacker
2016-08-08 18:24:10
2018-07-25 23:18:51
Outdoor Safety Basics