It may be a little hard to imagine layering up for a winter hike with the unseasonably warm weather we've seen over the past few weeks, but a chilly trek with friends is one of my favorite activities during the season of staying inside. When a sunny day shines down between bouts of frosty mornings and blustery afternoons, it's a great time to explore new trails that are harder to access during the warmer months. It's the perfect prescription to warm you up on those chilly, gloomy days!
As a kid, winter is the season of finding the best spot for sledding, snowball throwing, and snow fort building quicker than anyone else. As an adult, it can be making fresh tracks in the snow or avoiding mud puddles as you check out a view usually obscured by leaves during the spring and summer. There are also few sights that compare to a frozen mountain waterfall and one of the coolest sights to be seen in WNC: needle ice.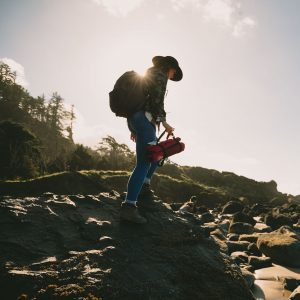 There are plenty of rewards to a winter hike including refreshing temperatures, fewer fellow hikers, and endless views of deep blue skies. While higher elevations typically see snow, the valleys around Asheville are usually clear and great on mild days. The North Carolina Arboretum is a great place to explore during these months as sections of the Blue Ridge Parkway are often inaccessible since it's never treated or plowed.
As with any season, it's best to be prepared when heading out for a hike of any length. Trail-tested essentials to keep in your daypack year round are water bottles, trekking poles, snacks, first aid kit, and whistle. A headlamp and a rain jacket are also imperative if you like to enjoy too-beautiful-to-miss sunsets or make a wrong turn. This is one season you can leave the insect repellant at home.
With heavier used trails, winter hiking can present packed snow turned slick or slushy mud. Consult with one of our footwear experts to choose footwear based on expected trail conditions. Winter hikers usually have better grip and sturdy ankle support. A good pair of hiking boots – no matter the season – provide great piece of mind.
Even though it seems like spring has come early, there's still plenty of time to enjoy an afternoon or weekend hike and come back home for a warm bowl of chili or cup of tea. Layer up and get outdoors.
https://frugalbackpacker.com/wp-content/uploads/2017/02/Hydro-Flask-Smiling-Couple-Square.jpg
1650
1650
Frugal Backpacker
/wp-content/uploads/2016/04/frugal-backpacker-logo.png
Frugal Backpacker
2017-02-25 01:49:47
2017-02-25 01:49:47
Winter Hiking in the North Carolina Mountains